The Sovereign Grace Missionary Baptist Church Of Texarkana, Texas USA
1217 Dillon St. Texarkana, Texas

Randy Johnson, Pastor
This Church Was Established in Texarkana, USA on October 21, 1961
---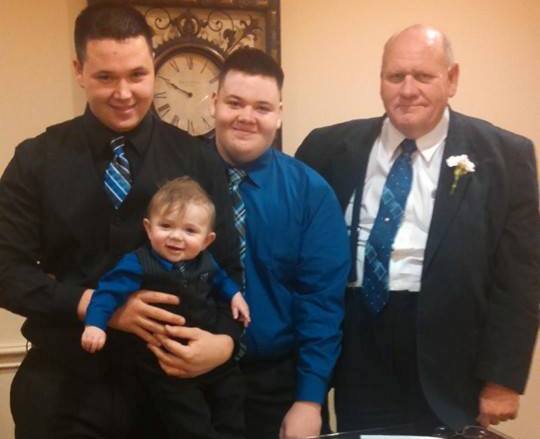 Pastor Randy Johnson
Also Grandson Nathan Fails (far left) Grandson Timothy Fails (center) and Great-Grandson Jace Fails (front center-left)
This pitcher was taken at Pastor Johnson's mothers funeral just before the services. 11/26/2014 Grandson Jacob Ramsey in not in the photo.
Pastor Randy Johnson
Pastor Johnson was saved by God's grace as a young man at the Central Baptist Church in Sulphur Springs, Texas but he never became a member of that church. In 1982 he met Sister Donna Johnson and began attending services at the Divide Baptist Church where Sister Donnas' father Harace Hammond was Pastor. Sister Donna and Randy was married on May 14, 1982 at the Divide Baptist Church by her father Pastor Harace Hammond. Brother Johnson continued as a member in the church learning for the first time the Sovereign Grace of God. He joined and was baptized by Pastor Harace Hammond under the authority of the Divide Baptist Church. Later in 1982 or early 1983 Brother Johnson felt the call of the Holy Spirit to the ministry of the Gospel of Jesus Christ and after much speaking with Pastor Hammond, Brother Johnson surrendered to the Ministry. Brother Johnson was licensed to the Gospel Ministry on May 01, 1983 Brother Johnson continued to minister with Pastor Hammond and helping oversee the move of the church to a new building just outside of the Sulphur Springs, Texas City Limits. Brother Johnson continued to work with and study at the church under Pastor Hammond's Ministry until he met the members at the Sovereign Grace Missionary Baptist Church in Texarkana, Texas USA. In December 2003 our now Brother Johnson visited our church and began speaking for us in December and continued to drive from Sulphur Springs to Texarkana and back every weekend until March 2014. In March after much prayer and consideration of the distance between Sulphur Springs and Texarkana the church membership through their repetitive Brother Larry Mollette issued a call for Brother Johnson be their Pastor. Brother Johnson accepted the churches call in the evening service, to the happiness of the church after more than 14 months of being without a Pastor and Brother Johnson. The Country Baptist Church then voted to Ordain to the Gospel Ministry Brother Johnson and on the 28th Day of March 2004 with the membership of the Sovereign Grace Missionary Baptist Church in attendance Brother Johnson was ordained. With a Special thanks to Pastor Harace Hammond, Brother Dalton Froneberger, and Brother Doug McCool (of the Divide Baptist Church) for their confidence in me and signing my Ordination Certificate. On April 04, 2004 Brother Randy Johnson in his first Pastorship stood before the Sovereign Grace Missionary Baptist Church in Texarkana, Texas USA. In July 15, 2005 Pastor Johnson moved to Texarkana to fully minister the church.